Residential Holiday Lighting Installation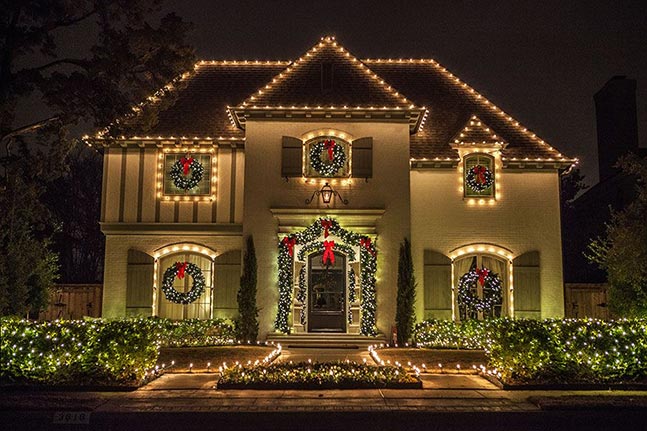 Take the hassle of holiday decorating off of your to-do list and let our lighting professional do the work. Enjoying the magic of the holiday season is super easy when you hire our professional team of holiday installers and decorators to do the work for you.
Over the years we have professionally decorated hundreds of residential homes with impressive lighting displays, holiday décor, and garlands to give every home that special and unique WOW look for the season.
With our vast inventory of Christmas lighting, there is virtually no limit to how beautiful and bright your home can look this holiday season.
Our professional Residential Decorators and Installers can design a specific and unique look for your home including lighting of your roofline, gutters, and windows. The addition of icicles and other ornamental lighting options is available, both in white and multi-color design schemes.
Additional whimsy can be added with installation of lighting to the landscape, including wrapping trees with lights to give them that adorable lollipop look and to bushes, coating them in blankets of lights for extra holiday cheer.
Proudly Installing Christmas Lighting in Every Greater Louisville Neighboorhood
Ready for an Amazing Holiday Season?
Contact Us, Get Started, and Leave the Worries Behind
5801 Haunz Lane, Louisville, KY 40241