Commercial Christmas Lighting and Installation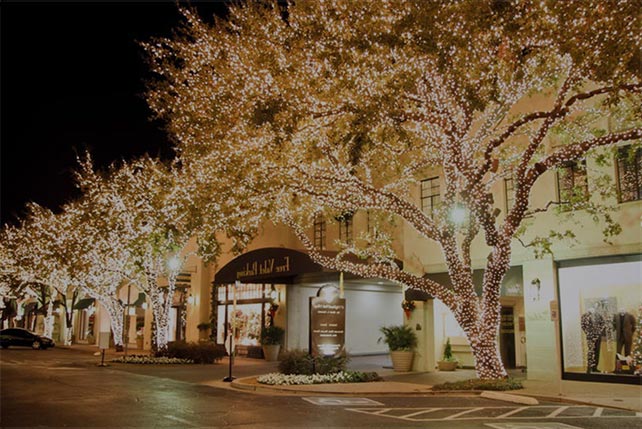 Bringing in the magic of the holiday season to your customers and employees is one of the best ways to enjoy the holiday season and bring in the extra cheer. Take your business to the next level and let us take care of your holiday decorating needs.
Over the years we have partnered with dozens of businesses for both large and small commercial installation projects. Our installation services include projects ranging from simple office holiday decorating installations to large installations, including whole retail center and shopping plaza lighting installments.
Our commercial lighting crews have years of experience with Christmas Lighting Installation for both Commercial and Residential clients, and have the knowledge and design knowhow to make each and every installation project a unique lighting masterpiece that will impress your customers and passerbys.
Not only does an impressive holiday lighting display put cheer into everyone this holiday season, it has also been shown to draw larger shopping crowds to area and events and produce more sales for existing businesses. A win-win for everyone involved.
Our Commercial Installation Services
Lighting for Retail Plazas and Commercial Centers and Shopping Malls
If you're looking for a reliable and trustworthy partner for your large holiday lighting installation needs, give us a call for a quote.
At All Lit Up we staff an experienced and knowledgeable design and installation team that can make your retail location pop and stand out from the rest.
As part of the "sensory experience" trend in the retail marketplace, holiday lighting and decorating displays allow shoppers to further engage with their surrounding areas, generating more exposure and sales to the businesses.
City and Municipality Holiday Decorating Services
With our large inventory of lighting and holiday décor, we work with many local cities, municipalities, and neighborhoods for their holiday lighting installation and holiday décor needs. This includes local city ordinances, subdivisions, and much more. We have years of experience in working with city management and neighborhood associations to design and implement amazing lighting installations that fit inside the city's and municipality's specific budget needs.
Our lighting design installation include complete lighting installation and take down, city street decorating, and many other decorating options to fit any specific design layout.
Office Building and Hotels
Our commercial lighting and holiday décor installation services includes design and décor of any commercial office building, or even hotel landscape or lobby decorating. Our professional holiday designers can design and install an unbelievable holiday lighting display that is sure to spread cheer to any visitor or office tenant.
Our lighting décor display can include anything from an elaborate lighting installation, to commercial garlands, to large Christmas trees decorated and set up by our staff. Spreading the holiday cheer is our job - hire us to awe your customers and let your holiday shine.
Holiday Lighting
that Really Shines
Making your Holidays merry and bright has never been easier with our professional lighting installation. Give us a call, and relax for the Holidays!
Contact our staff to schedule a consultation for your commercial lighting installation needs. We'll be happy to provide you with a quote.
Ready for an Amazing Holiday Season?
Contact Us, Get Started, and Leave the Worries Behind
5801 Haunz Lane, Louisville, KY 40241